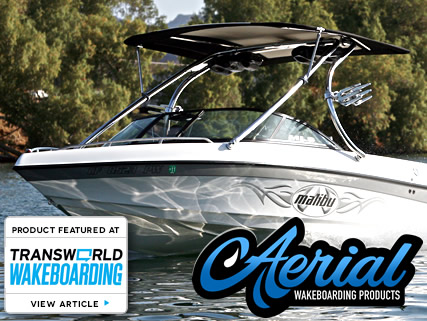 5 year warranty
Made of high-grade 2.25" diameter polished aluminum
Universal design fits 76-108" beam width boats
Simple DIY installation in just a few hours
All hardware included for installation

Tower folds down for easy transport and storage
Built-in U.S.C.G. certified 2-mile all-round LED navigation light

K2 Tower - Powder Coated Black
Unlike other universal wakeboarding towers which feature a sliding top crossbar for adjusting the tower to the width of the boat, the K2 is designed with a solid top crossbar. The solid crossbar gives the K2 added strength and stability similar to OEM-style wakeboarding towers that cost thousands of dollars more.
To adjust for installation, the K2 legs simply swivel in and out. Universal swivel mounts at the base of the legs allow the tower to be mounted at any angle on the hull. The K2 can be installed on any boat with a beam width from 70 to 102 inches.
The K2 tower is manufactured with 2.25 inch diameter 6061 aircraft grade aluminum tubing to minimize tower flex while wakeboarding. For additional questions or for installation support, call us at (949) 398-2565 .