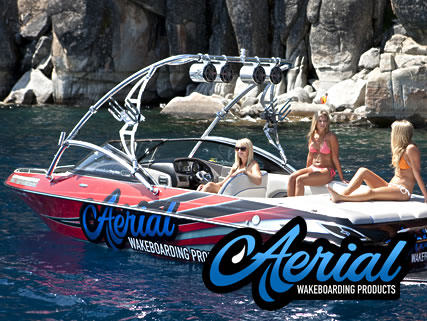 5 year warranty!
Made of high-grade 2.25" diameter polished aluminum
Universal design fits 76-108" beam width boats
Simple DIY installation in just a few hours
All hardware included for installation

Tower folds down for easy transport and storage
Built-in U.S.C.G. certified 2-mile all-round LED navigation light

Assault Tower - Polished Aluminum
This is a classic swoop style tower featuring a radically stylish profile design and includes dual integrated wakeboard racks. This trend-setting tower is also significantly stiffer and produces less vertical flex!
The Assault is manufactured with hefty 2.25 inch diameter high grade aluminum tubing to minimize tower flex while wakeboarding. The universal design of this tower allows it to fit any boat from 76-108 inches wide.
The Assault also collapses to clear a standard 6 foot 11 inch garage opening for storage. Includes a choice of two integrated racks for wakeboards, kneeboards, or both. Backed by a solid 5 year warranty. For additional questions or for installation support, call us at (888)253-6046.