Transform Your Center Console Boat with a Stryker T-Top!
It goes without saying that adding a t-top to a center console boat brings a lot of valuable advantages. We have put this page together to help boat t-top shoppers make a more educated decision so it's more clear what you should be looking for, what you want to avoid and ultimately, why we recommend Stryker T-Tops over any other option. Yes, we are biased, but for many good reasons. Just like all the other brands and products we sell, we only carry the ones that have proven themselves. Since our name is on the line with every item we sell, we not only search high and low to find the best products out there, we also test out almost all the products we carry, do side-by-side comparisons, install them, load them up with gear and accessories, take them out on the water, clock in actual fishing time, push, pull, punish, repeat. We do a ton of research so you don't have to. We avoid carrying cheaper brands or less well made products because, at the end of the day, it's not worth it to deal with all the returns, manufaturer defect issues, and the negative reviews reflect back on us. For you the customer, it means you get a t-top that won't let you down in the future after investing your time and money. Stryker T-Tops are the perfect balance of price, quality, strength, stability, style, performance, longetivity and highest customer satisfaction. Please read on about shopping for a t-top...
>
Universal design adjusts to its any year, make and model boat with a center console up to 50" wide!
>
Extremely sturdy and solid with an impressive load-bearing frame
>
Get OEM & custom built quality for over half the cost
>
Hefty 2" diameter high-grade aluminum tubing with protective anodized finish
>
Simple installation only takes several hours for any do-it-yourselfer
>
Easy-to-follow 25 min. installation video and detailed installation guides
>
Superior customer service & support
>
Features Sunbrella® fabric for best UV protection, stain & fade resistance
>
Instantly increases the look & value of your center console boat
>
Growing line of Stryker accessories to upgrade fishing & boating applications
>
Customer boat gallery with reviews
>
5 year manufacturer warranty
Cost: Same Quality T-Top for Thousands of Dollars Less.
Unfortunately, for us folks on an "average" fisherman's budget, a t-top is not an option financially. An original factory OEM t-top from your boat's manufacturer will run you many, many thousands of dollars- $5,000 on up is not uncommon. If you go custom, a properly fabricated t-top also comes with a hefty price tag plus the added time for the due diligence of researching all the local fabrication shops, reading customer reviews, physically going to their shop to look at their build and material quality, drawing up the plans for your t-top, getting a quote, towing your boat to the shop, build times vary and then you have to tow it home. Did you ask about their warranty and get it in writing? Did they do a professional stress test before installing it(not just a guy hanging from it)? Yes, the tubing they used might be anodized, but did they dip it in an anodizing bath after they welded it all together? For a small fraction of the price, Stryker designs and manufactures two attractive and high performing aftermarket t-top models that each offer OEM level of quality, strength, materials fit and finish even down to the cleanest welds we've seen in a very long time. Once delivered to your door(arrives in two very large and impressively packed and wrapped boxes) the install time from box to boat averages just 3-5 hours! Any boat owner with average installation skills and at least one of your buddies will have no problem following the instructions and details 25 minute install videos online. Plus, Stryker has a well staffed support team that is easy to get a hold of. Once installed, you will immediately know you made the right decision. We always hear back about how strong the t-top is, the impressive quality, materials, finish, welding, easy installation, performance, great looks, price, and the number of compliments and questions other boaters give them.

Stryker Universal T-Tops: Built Better Than the Competition!
We have had so much success selling Stryker's t-top models and accessories that we have become a proud Authorized Stryker T-Tops Dealer. Read any online review, DIY installation article, product comparison shoot-out, etc. and you will quickly learn that Stryker is the only way to go if you're looking to upgrade your center console fishing boat with a great aftermarket t-top. Here is a great independently created Stryker T-Tops installation article and review by BDOutdoors.com. You get a lot for every dollar you spend (and with Stryker's reasonable prices, it's not a lot!). Yes, there are a few other manufacturers and we have compared them side-by-side. Keep in mind, when you are shopping from home on a little computer screen, it's impossible to get a sense of the materials, weight, small details. Believe us when we tell you, the differences between manufacturers are big and truly eye opening! If you were in our shoes, you would immediately notice the beautiful difference in finish. Next, you'd see how Stryker uses a much larger 2" outer diameter premium aircraft grade aluminum while others use 1.9" or below. Only 0.1" or 0.5"might not seem like a lot on paper, but trust us, it's a BIG difference with respect to strength, the feel in your hand and when riding in choppy waters. In our long comparison list of fit, finish, hardware, style, rigidity, simple installation, quality of welds, quality of accessories, looks that compliment any boat model and even the attention of detail to packaging and shipping materials, Stryker had the highest score in every single criteria from everyone.
T-Top Accessories!


Electronics Box

This streamlined unit fits under any Stryker T-Top and provides secure locking storage of electronics or other valuables. High-quality hand laminated fiberglass with an acrylic door and stainless steel spring hinges.


5 Rod Rocket Launcher

Holds up to 5 fishing rods! Clamp this ttop rod holder accessory on your Stryker T-Top or any structure made from 2 inch diameter tubing. Extremely popular and best selling accessory. Keep your rods up high, tidy and off the deck!


Electronics Box with Speakers

Made of premium fiberglass, the Stryker T-Top and provides secure locking storage of electronics or other valuables. Has 2 built-in 4" Fusion Marine Certified Speakers that pack a lot of impressive audio punch! Get OEM quality for a great low price!


9 Rod Rocket Launcher

Holds up to 9 fishing rods! Clamp this ttop rod holder accessory on your Stryker T-Top or other hardtop, tower, radar arch, rail, or any structure made from 2 inch diameter tubing. One of our best selling accessories for avid fishers.


Universal T-Top Mount

With Stryker's new Universal Mount you can now mount a radar antenna or lights from your t-top. Made from quality, high-grade aluminum with an annodized finish. With its very thik aluminum, it's built to last!


Single Rod Holders

Clamp this rod holder accessory on your Stryker T-Top or other hardtop, tower, radar arch, rail or any structure made from 2 inch diameter tubing. A must have accessory to add to your Stryker T-Top purchase!




Single Rod Holders

Fits most 15-18 foot outriggers. Set includes 2 ultra rugged outrigger mounts. Premium t-top accessory features adjustable arm and easy spring release pin. Get OEM quality for hundreds of dollars less!




4" Anodized Speaker Pods

Enjoy your favorite music with these powerful yet compact anodized aluminum speakers specifically designed to match the style and finish of your Stryker T-Top. A very popular accessory for adding audio to ttops!


Are Stryker T-Tops Better?
Without a doubt, the next nearest competing manufacturer of aftermarket t-tops is light years behind. Again, other companies use smaller diameter tubing that does not adequately distribute the heavy stresses of weight and force and are more prone to bending, stress fractures and other fatal frame failures. Stryker uses hefty 2" diameter high-tensile T6 tempered 6061 aluminum tubing, marine grade 316 stainless steel fasteners, solid aluminum joint for extreme rigidity, and incorporates computer engineered curved frames that are designed to give incredible durability not found on "straight piped" ttops the others make. Plus, every t-top kit includes all the mounting hardware you need, rubber liner inserts for the main overhead clamps to eliminate annoying creeks, 2 anodized aluminum standoffs to horizontally connect to the sides of your console which provides amazing extra strength and you get a premium Sunbrella canopy for the ultimate in fade and stain resistant shade. Stryker's factory is run as a very tight ship and every unit comes out meets strict quality control standards. We can't say enough about the level of fit and finish. Very professional and very consistent considering the affordable price.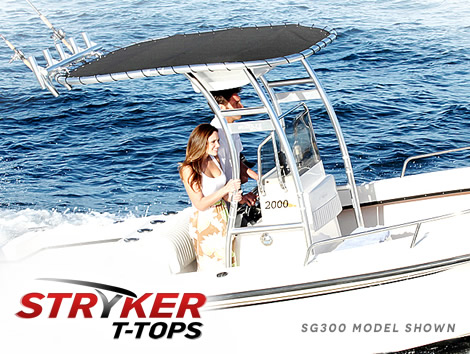 Why Are the Curves Better?
Imagine the bending of an archer's bow and how it's able to evenly distribute weight to avoid breakage. This is why Stryker T-Tops can handle enormous load stresses. We were able to do pull-ups off the back of ours! Strength aside, we think the curvy looks are pretty darn attractive compared to the straight lines and harsh angles you see with other aftermarket boat t-tops. In fact, we always get compliments and questions whenever we take the boat out. It's a real head-turner! Going from a standard folding bimini on our boat, we loved how the t-top opened up the deck, made for easy casting and running the line around without getting tangled up in the bimini frame. Plus, we can stand up straight and be in the shade at the same time. No more crouching! Stryker T-Tops are also very aerodynamic and are speed rated up to 55 mph. Finally, you can ditch your hokey folding bimini and upgrade to a sports fishing setup found on more expensive CC boats.
Will a Stryker T-Top Fit Your Boat?
This is the question we get the most and 99% of the time, the answer we give is "yes." These are "universal" t-tops meaning they are specifically designed to have an adjustable frame that can accommodate almost any center console boat made in the last 50 years. The left and right pre-fabricated vertical leg sections of the frame can be moved in or out to suit a wide range of center console sizes and deck footprints. The Stryker SG300 model fits center consoles up to 48" wide is incredibly affordable for any fisherman's budget and the SG600 model fits center consoles up to 50" wide. The SG600 also folds down easily to make it easier for towing, storing in a garage or for any other situation where minimal vertical clearance is required. Stryker's customer boat gallery has quite a few boats of many years, makes and models. It's worth checking out since you will probably find your boat or one very close- great for seeing how a finished install looks. There are also tons of customer reviews from happy owners.
What Other Features Make Stryker T-Tops a Great Choice?
Here are some other reasons that make Stryker T-Tops a no-brainer. Stryker T-Top frames are completely submerged in a premium anodizing bath giving a durable, hard finish for the longest life, attractive finish and for incredible protection against years of beating from harsh elements, wild weather, UV light, intense heat from the sun and damage from variances in water pH (freshwater, salt water, brackish environments, acid rain). The welds are impressive, beautifully done and even puts many custom shops to shame- very talented and professional fabrication skills at Stryker. Installation is easy for any DIY'er, instructions are easy to follow, Stryker has great t-top installation videos online, a top-notch support staff available by phone, email and even live chat support just like we have here at H2O Sports Warehouse. For just a little more cost over the SG300, the SG600 allows a slick folding design and includes 7 anodized aluminum mounting plates for your outrigger mounts, antenna, radar, lights or what have you. Plus, you can safely rely on their 5 year warranty. We almost never hear back about manufacturing defects but when we do, Stryker is always quick to honor their warranty and make it right.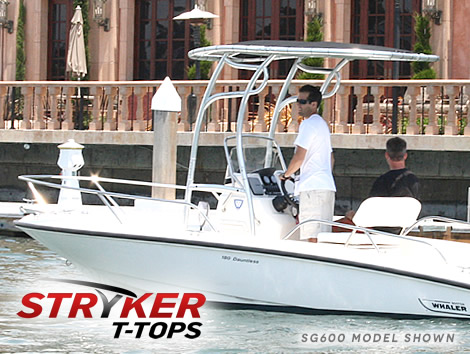 What About Sun Protection?
Aside from the ability to add tons of accessories, rod holders, lights, electronics box and the benefit of freeing up a lot of extra deck space, the shade factor for many is at the top of the feature list. Styker didn't skimp on the canvas either and uses premium, long-life canopy materials by Sunbrella. If you're like us, you'd probably appreciate a little less direct sun exposure. It can make for a miserable day of fishing with the heat, sunburns and squinting. Plus, we all know too much UV exposure is unhealthy. Sunbrella marine fabrics are the industry's best for protection against harmful UV rays, holds the "Seal of Recommendation" from the Skin Cancer Foundation and is stain resistant and fade resistant for a long life. If you go to any marina, almost every single vessel you see with have Sunbrella for their seats, covers, biminis, you name it.
What Are the Differences Between Stryker and an OEM or Factory Made T-Top?
Compared to factory/OEM t-tops, the quality is honestly very very close but the price is not... expect to spend at least 2-3 times more for an OEM unit. As many of you might know, some boat manufacturers charge as much as much as $5,000 to $10,000 or more! If you want to save quite a bit of money, you should seriously consider Stryker- they currently start at just $1,149. You will get all the same functionality with plenty of cash to spare. We doubt a factory one will last much longer than a Stryker- the quality is that good.
What About Compared to a Custom Built T-Top from a Local Fabrication Shop?
For many, the process of completing a custom fabrication job can be long, complicated and expensive. First, you'll have to find a good, reliable shop. Before putting any deposit down or signing any contract, you really visit several shops to closely examine their work and the whole operation, read online reviews, discuss and plan out the exact design you want, pick out materials, work out a quote, and carefully read their entire warranty. You should be prepared to tow your boat over and leave it at their shop. Wait time can range from weeks up to a month to complete and you will likely end up paying 2 to 3 times as much on a t-top that ultimately does that exact same same thing as a Stryker top. While most custom shops offer quality work, some have inconsistent or uneven fabrication(Stryker uses expensive machining equipment, advanced 3D computer software, precision multi-staged quality checks) have weak welds that break(Stryker's welders are pros laying down textbook beads), use low-quality or thin aluminum tubing(Stryker uses premium, 2 inch diameter high-tensile T6 temper 6061 aluminum tubing with 3 mil wall thickness) and will likely not anodize the welded frame unless you pay a lot extra(although the tubing they use might be anodized, most will not submerge the frame after welding the finished unit unlike Stryker- very important). Reputable shops will guarantee their work but it means you must tow your boat back in.
OR you can have a Stryker T-Top shipped and at your door within a few days. You'll get 2 large incredibly well packaged blue boxes with beautiful pre-welded, pre-fabricated sections dipped in super protective anodizing baths, all the mounting hardware and your choice of best-in-class Sunbrella canvas top colors. You and a friend can have it installed in just one morning and be back on the water the same day! Instruction manuals are very easy to follow and so is the very detailed 25 minute installation video found on Stryker's website. Or, like some Stryker customers have done, you can hire your local shop to install your T-Top and still save a ton of time and money. On average, our customers report that shops are quoting 3-4 hours for labor to install. Coincidentally, that is the same average time it takes a customer to install it themselves.
If you have any questions before or after your purchase, our own sales and support staff as well as Stryker's are available to help you. Stryker also designs and manufactures their own full and growing line of great accessories so you can really customize your t-top so it's dialed in to match your fishing style. Rod holders, outrigger mounts, electronics boxes, 3 and 5 rod rocket launchers, universal radar/antenna mounts, lighting kits and much more are available. All, are so easy to mount to the t-tops and all are built to their very high standards of quality, style and with a very reasonable price tag.
Don't let the beautiful curved lines alone convince you, these t-tops are solid, very well made and designed for a long, long life of reliable use. They are the absolute best single aftermarket upgrade you can make that will add a lot of functionality and resale value to your center console boat. Unlike many of their competitors, Stryker T-Tops are all brawn using the best materials, thicker tubing and are built by the best talent in the business. Of all the aftermarket boat t-top options on the market we have come across, Stryker is the best hands-down. Buy the original, buy the best: Stryker Universal Boat T-Tops!